Proactive is not authorised to give pensions advice, and the comments here are a guide to complying with new legislation. It is not a guide to pensions!
The Government decided in about 2012 to shake up UK pension provision, and as a result, a lot of smaller businesses have to comply with the new laws from 2015 or 2016. It appears that they launched a campaign in Spring 2015, sending letters like this example, to the smallest of UK employers.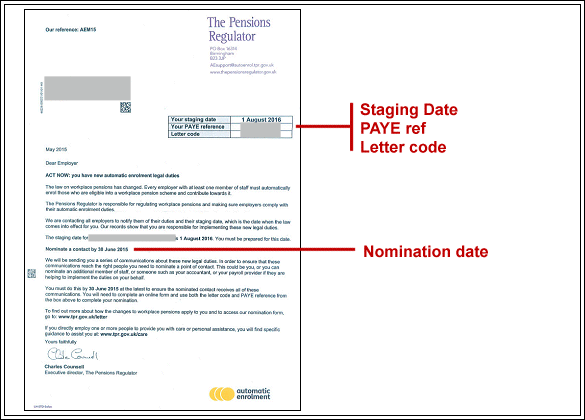 Oddly, if the new legislation does not apply to you, then you still have to comply with the new legislation, by telling The Pensions Regulator that the new legislation does not apply to you! That's law makers for you! The key question to consider is "do I have any eligible employees"? The long answer is to be found on the The Pensions Regulator web site.
The short answer is "if you have staff with a contract of employment and a decent wage" then you probably have to provide some pension arrangements. The key in all this is "contract of employment" and if this is an issue for you then you may need a dedicated payroll service.
What if you are a director of your own company, with no employment contract and a very basic salary? We found another short answer (well not exactly short, but shorter) on the Accounting Web UK forum.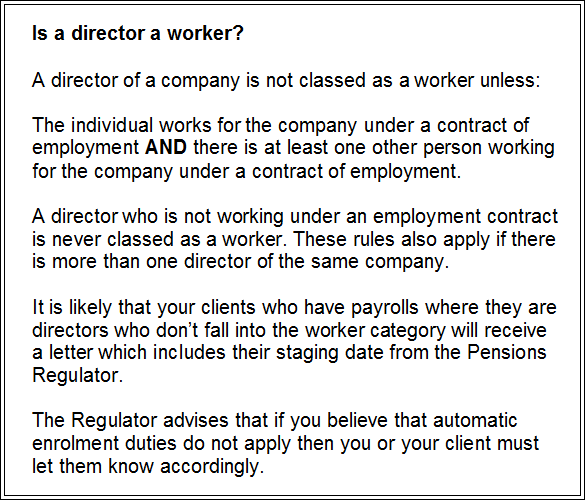 That means two things:
Proactive can continue to provide you with basic payroll services.
You have to notify The Pensions Regulator that the new legislation does not apply to you.
If you visit the page below on the Regulator's website you will find a pre-populated email to send to them which should ensure the record is updated to show that the small business is not an employer.
http://www.thepensionsregulator.gov.uk/employers/what-if-i-dont-have-any-staff.aspx
For those of you who don't like to rely on form to email solutions like that one, here's the text of the standard message which you can use to send your own email to customersupport@autoenrol.tpr.gov.uk or send a Recorded Delivery or Special Delivery letter on your business letterheaded paper to the address shown.
| | |
| --- | --- |
| The Pensions Regulator | The Pensions Regulator |
| PO Box 16314 | Napier House |
| Birmingham | Trafalgar Place |
| B23 3JP | Brighton |
| | BN1 4DW |
I confirm that [add your company name here] is not an employer for the purposes of automatic enrolment for the following reason.
[please select one option from the list below and delete the others]
There is only one director and there are no other staff working for the company.
The only people working for the company are directors and none of them have an employment contract.
The only people working for the company are directors and only one of them has an employment contract.
The company does not or no longer employs any staff because it has ceased trading/is terminally insolvent eg has gone into liquidation/has been dissolved.
The letter code for the company is: [add your letter code here]
The PAYE scheme(s) reference is: [add your PAYE reference(s) here]
The Companies House number (where applicable): [add your Companies House number (if you have one) here]
The name, email address, address and telephone number of contact at the company: [add these details here]
You may already have enough email to deal with, so rather than send an email (which automatically provides them with an email address for you) send them a letter by Special Delivery as a number of our clients have suggested!