In our experience, Monzo is simply the worst bank in the UK. They consistently mix up the IN column and the OUT column on the bank statement. They consistently fail to produce statements for pots. The mobile app, when asked in mid March for a list of all the December transactions will produce a December list with no running balance column. The balance is put at the top of the screen, but it is not the 31 December balance, it is the mid March balance, the one for the date you made the request. If we ask for December figures, we expect the December month end balance to be shown.
Mobile App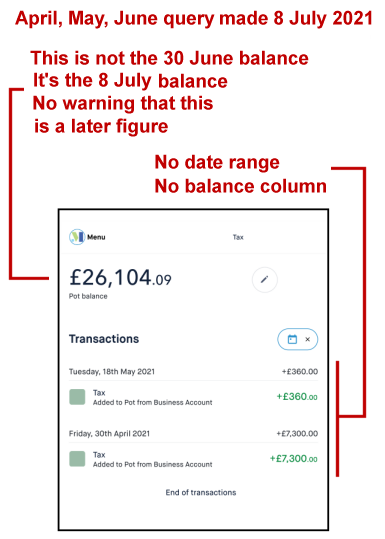 To crown it all, today 29 Jul 2022, we have received a second version of a 31 March 2022 bank statement for one single bank account. The month end balance on this second copy of the same statement differs by over £3,000. These two documents cannot both be correct.
PDF statement

Look at the two bank statements in that image. This client had no bank transactions on 29, 30 and 31 March. The statutory accounts are drawn up to 31 March every year. Which figure should be shown in the statutory accounts . . . £14,071.31 or £17,550.25?
In 36 years of accounting work, during which literally thousands of bank statements have passed through our hands, we have never before seen a UK bank provide two copies of the same statement, but with different figures!
Do not use Monzo, they are worse than useless. They may be giving you data which is demonstrably incorrect. These are not the standards expected of a reasonably competent bank.
What does "reasonably competent" mean? Please see the common law of Tort, and dozens of stated cases.
Footnote
We had a meeting with Monzo Bank a long time ago, on 17 Dec 2019, to discuss inconsistencies. Nothing changed.